Mortgage Calculator UK
Home Price - £
Deposit - £
Mortgage Amount - £
Interest Rate - %
Term - Years
£788.61
£343.50
300
£56,581.78
£236,581.78
£256,581.78

| Year | Interest Paid | Capital Paid | Mortgage Balance |
| --- | --- | --- | --- |
| 1 | £4,065.58 | £5,397.69 | £174,602.31 |
| 2 | £3,940.67 | £5,522.60 | £169,079.71 |
| 3 | £3,812.86 | £5,650.41 | £163,429.30 |
| 4 | £3,682.10 | £5,781.17 | £157,648.13 |
| 5 | £3,548.32 | £5,914.95 | £151,733.18 |
| 6 | £3,411.43 | £6,051.84 | £145,681.34 |
| 7 | £3,271.38 | £6,191.89 | £139,489.45 |
| 8 | £3,128.09 | £6,335.18 | £133,154.27 |
| 9 | £2,981.48 | £6,481.79 | £126,672.48 |
| 10 | £2,831.48 | £6,631.79 | £120,040.69 |
| 11 | £2,678.01 | £6,785.26 | £113,255.43 |
| 12 | £2,520.99 | £6,942.29 | £106,313.14 |
| 13 | £2,360.33 | £7,102.94 | £99,210.20 |
| 14 | £2,195.95 | £7,267.32 | £91,942.88 |
| 15 | £2,027.77 | £7,435.50 | £84,507.38 |
| 16 | £1,855.70 | £7,607.57 | £76,899.81 |
| 17 | £1,679.65 | £7,783.62 | £69,116.18 |
| 18 | £1,499.52 | £7,963.75 | £61,152.43 |
| 19 | £1,315.22 | £8,148.05 | £53,004.38 |
| 20 | £1,126.66 | £8,336.61 | £44,667.78 |
| 21 | £933.74 | £8,529.53 | £36,138.24 |
| 22 | £736.35 | £8,726.92 | £27,411.32 |
| 23 | £534.39 | £8,928.88 | £18,482.44 |
| 24 | £327.76 | £9,135.51 | £9,346.93 |
| 25 | £116.35 | £9,346.93 | £-0.00 |
| Month | Interest Paid | Capital Paid | Mortgage Balance |
| --- | --- | --- | --- |
| 1 | £343.50 | £445.11 | £179,554.89 |
| 2 | £342.65 | £445.96 | £179,108.94 |
| 3 | £341.80 | £446.81 | £178,662.13 |
| 4 | £340.95 | £447.66 | £178,214.47 |
| 5 | £340.09 | £448.51 | £177,765.96 |
| 6 | £339.24 | £449.37 | £177,316.59 |
| 7 | £338.38 | £450.23 | £176,866.36 |
| 8 | £337.52 | £451.09 | £176,415.28 |
| 9 | £336.66 | £451.95 | £175,963.33 |
| 10 | £335.80 | £452.81 | £175,510.52 |
| 11 | £334.93 | £453.67 | £175,056.85 |
| 12 | £334.07 | £454.54 | £174,602.31 |
| 13 | £333.20 | £455.41 | £174,146.90 |
| 14 | £332.33 | £456.28 | £173,690.63 |
| 15 | £331.46 | £457.15 | £173,233.48 |
| 16 | £330.59 | £458.02 | £172,775.46 |
| 17 | £329.71 | £458.89 | £172,316.57 |
| 18 | £328.84 | £459.77 | £171,856.80 |
| 19 | £327.96 | £460.65 | £171,396.16 |
| 20 | £327.08 | £461.52 | £170,934.63 |
| 21 | £326.20 | £462.41 | £170,472.22 |
| 22 | £325.32 | £463.29 | £170,008.94 |
| 23 | £324.43 | £464.17 | £169,544.76 |
| 24 | £323.55 | £465.06 | £169,079.71 |
| 25 | £322.66 | £465.95 | £168,613.76 |
| 26 | £321.77 | £466.83 | £168,146.93 |
| 27 | £320.88 | £467.73 | £167,679.20 |
| 28 | £319.99 | £468.62 | £167,210.58 |
| 29 | £319.09 | £469.51 | £166,741.07 |
| 30 | £318.20 | £470.41 | £166,270.66 |
| 31 | £317.30 | £471.31 | £165,799.36 |
| 32 | £316.40 | £472.21 | £165,327.15 |
| 33 | £315.50 | £473.11 | £164,854.04 |
| 34 | £314.60 | £474.01 | £164,380.03 |
| 35 | £313.69 | £474.91 | £163,905.12 |
| 36 | £312.79 | £475.82 | £163,429.30 |
| 37 | £311.88 | £476.73 | £162,952.57 |
| 38 | £310.97 | £477.64 | £162,474.93 |
| 39 | £310.06 | £478.55 | £161,996.38 |
| 40 | £309.14 | £479.46 | £161,516.92 |
| 41 | £308.23 | £480.38 | £161,036.54 |
| 42 | £307.31 | £481.29 | £160,555.25 |
| 43 | £306.39 | £482.21 | £160,073.04 |
| 44 | £305.47 | £483.13 | £159,589.90 |
| 45 | £304.55 | £484.06 | £159,105.85 |
| 46 | £303.63 | £484.98 | £158,620.87 |
| 47 | £302.70 | £485.90 | £158,134.96 |
| 48 | £301.77 | £486.83 | £157,648.13 |
| 49 | £300.85 | £487.76 | £157,160.37 |
| 50 | £299.91 | £488.69 | £156,671.68 |
| 51 | £298.98 | £489.62 | £156,182.06 |
| 52 | £298.05 | £490.56 | £155,691.50 |
| 53 | £297.11 | £491.49 | £155,200.00 |
| 54 | £296.17 | £492.43 | £154,707.57 |
| 55 | £295.23 | £493.37 | £154,214.20 |
| 56 | £294.29 | £494.31 | £153,719.88 |
| 57 | £293.35 | £495.26 | £153,224.63 |
| 58 | £292.40 | £496.20 | £152,728.42 |
| 59 | £291.46 | £497.15 | £152,231.27 |
| 60 | £290.51 | £498.10 | £151,733.18 |
| 61 | £289.56 | £499.05 | £151,234.13 |
| 62 | £288.61 | £500.00 | £150,734.13 |
| 63 | £287.65 | £500.95 | £150,233.17 |
| 64 | £286.69 | £501.91 | £149,731.26 |
| 65 | £285.74 | £502.87 | £149,228.39 |
| 66 | £284.78 | £503.83 | £148,724.56 |
| 67 | £283.82 | £504.79 | £148,219.77 |
| 68 | £282.85 | £505.75 | £147,714.02 |
| 69 | £281.89 | £506.72 | £147,207.30 |
| 70 | £280.92 | £507.69 | £146,699.62 |
| 71 | £279.95 | £508.65 | £146,190.96 |
| 72 | £278.98 | £509.62 | £145,681.34 |
| 73 | £278.01 | £510.60 | £145,170.74 |
| 74 | £277.03 | £511.57 | £144,659.17 |
| 75 | £276.06 | £512.55 | £144,146.62 |
| 76 | £275.08 | £513.53 | £143,633.10 |
| 77 | £274.10 | £514.51 | £143,118.59 |
| 78 | £273.12 | £515.49 | £142,603.10 |
| 79 | £272.13 | £516.47 | £142,086.63 |
| 80 | £271.15 | £517.46 | £141,569.17 |
| 81 | £270.16 | £518.44 | £141,050.73 |
| 82 | £269.17 | £519.43 | £140,531.29 |
| 83 | £268.18 | £520.43 | £140,010.87 |
| 84 | £267.19 | £521.42 | £139,489.45 |
| 85 | £266.19 | £522.41 | £138,967.04 |
| 86 | £265.20 | £523.41 | £138,443.63 |
| 87 | £264.20 | £524.41 | £137,919.22 |
| 88 | £263.20 | £525.41 | £137,393.81 |
| 89 | £262.19 | £526.41 | £136,867.39 |
| 90 | £261.19 | £527.42 | £136,339.98 |
| 91 | £260.18 | £528.42 | £135,811.55 |
| 92 | £259.17 | £529.43 | £135,282.12 |
| 93 | £258.16 | £530.44 | £134,751.68 |
| 94 | £257.15 | £531.45 | £134,220.22 |
| 95 | £256.14 | £532.47 | £133,687.75 |
| 96 | £255.12 | £533.49 | £133,154.27 |
| 97 | £254.10 | £534.50 | £132,619.76 |
| 98 | £253.08 | £535.52 | £132,084.24 |
| 99 | £252.06 | £536.55 | £131,547.70 |
| 100 | £251.04 | £537.57 | £131,010.13 |
| 101 | £250.01 | £538.59 | £130,471.53 |
| 102 | £248.98 | £539.62 | £129,931.91 |
| 103 | £247.95 | £540.65 | £129,391.26 |
| 104 | £246.92 | £541.68 | £128,849.57 |
| 105 | £245.89 | £542.72 | £128,306.85 |
| 106 | £244.85 | £543.75 | £127,763.10 |
| 107 | £243.81 | £544.79 | £127,218.31 |
| 108 | £242.77 | £545.83 | £126,672.48 |
| 109 | £241.73 | £546.87 | £126,125.61 |
| 110 | £240.69 | £547.92 | £125,577.69 |
| 111 | £239.64 | £548.96 | £125,028.73 |
| 112 | £238.60 | £550.01 | £124,478.72 |
| 113 | £237.55 | £551.06 | £123,927.66 |
| 114 | £236.50 | £552.11 | £123,375.55 |
| 115 | £235.44 | £553.16 | £122,822.38 |
| 116 | £234.39 | £554.22 | £122,268.16 |
| 117 | £233.33 | £555.28 | £121,712.89 |
| 118 | £232.27 | £556.34 | £121,156.55 |
| 119 | £231.21 | £557.40 | £120,599.15 |
| 120 | £230.14 | £558.46 | £120,040.69 |
| 121 | £229.08 | £559.53 | £119,481.16 |
| 122 | £228.01 | £560.60 | £118,920.56 |
| 123 | £226.94 | £561.67 | £118,358.90 |
| 124 | £225.87 | £562.74 | £117,796.16 |
| 125 | £224.79 | £563.81 | £117,232.35 |
| 126 | £223.72 | £564.89 | £116,667.46 |
| 127 | £222.64 | £565.97 | £116,101.50 |
| 128 | £221.56 | £567.05 | £115,534.45 |
| 129 | £220.48 | £568.13 | £114,966.32 |
| 130 | £219.39 | £569.21 | £114,397.11 |
| 131 | £218.31 | £570.30 | £113,826.81 |
| 132 | £217.22 | £571.39 | £113,255.43 |
| 133 | £216.13 | £572.48 | £112,682.95 |
| 134 | £215.04 | £573.57 | £112,109.38 |
| 135 | £213.94 | £574.66 | £111,534.72 |
| 136 | £212.85 | £575.76 | £110,958.96 |
| 137 | £211.75 | £576.86 | £110,382.10 |
| 138 | £210.65 | £577.96 | £109,804.14 |
| 139 | £209.54 | £579.06 | £109,225.07 |
| 140 | £208.44 | £580.17 | £108,644.91 |
| 141 | £207.33 | £581.28 | £108,063.63 |
| 142 | £206.22 | £582.38 | £107,481.25 |
| 143 | £205.11 | £583.50 | £106,897.75 |
| 144 | £204.00 | £584.61 | £106,313.14 |
| 145 | £202.88 | £585.73 | £105,727.42 |
| 146 | £201.76 | £586.84 | £105,140.57 |
| 147 | £200.64 | £587.96 | £104,552.61 |
| 148 | £199.52 | £589.08 | £103,963.52 |
| 149 | £198.40 | £590.21 | £103,373.32 |
| 150 | £197.27 | £591.34 | £102,781.98 |
| 151 | £196.14 | £592.46 | £102,189.52 |
| 152 | £195.01 | £593.59 | £101,595.92 |
| 153 | £193.88 | £594.73 | £101,001.20 |
| 154 | £192.74 | £595.86 | £100,405.33 |
| 155 | £191.61 | £597.00 | £99,808.33 |
| 156 | £190.47 | £598.14 | £99,210.20 |
| 157 | £189.33 | £599.28 | £98,610.92 |
| 158 | £188.18 | £600.42 | £98,010.49 |
| 159 | £187.04 | £601.57 | £97,408.92 |
| 160 | £185.89 | £602.72 | £96,806.21 |
| 161 | £184.74 | £603.87 | £96,202.34 |
| 162 | £183.59 | £605.02 | £95,597.32 |
| 163 | £182.43 | £606.17 | £94,991.15 |
| 164 | £181.27 | £607.33 | £94,383.81 |
| 165 | £180.12 | £608.49 | £93,775.32 |
| 166 | £178.95 | £609.65 | £93,165.67 |
| 167 | £177.79 | £610.81 | £92,554.86 |
| 168 | £176.63 | £611.98 | £91,942.88 |
| 169 | £175.46 | £613.15 | £91,329.73 |
| 170 | £174.29 | £614.32 | £90,715.41 |
| 171 | £173.12 | £615.49 | £90,099.92 |
| 172 | £171.94 | £616.67 | £89,483.25 |
| 173 | £170.76 | £617.84 | £88,865.41 |
| 174 | £169.58 | £619.02 | £88,246.39 |
| 175 | £168.40 | £620.20 | £87,626.19 |
| 176 | £167.22 | £621.39 | £87,004.80 |
| 177 | £166.03 | £622.57 | £86,382.23 |
| 178 | £164.85 | £623.76 | £85,758.47 |
| 179 | £163.66 | £624.95 | £85,133.52 |
| 180 | £162.46 | £626.14 | £84,507.38 |
| 181 | £161.27 | £627.34 | £83,880.04 |
| 182 | £160.07 | £628.53 | £83,251.51 |
| 183 | £158.87 | £629.73 | £82,621.77 |
| 184 | £157.67 | £630.94 | £81,990.84 |
| 185 | £156.47 | £632.14 | £81,358.70 |
| 186 | £155.26 | £633.35 | £80,725.35 |
| 187 | £154.05 | £634.56 | £80,090.79 |
| 188 | £152.84 | £635.77 | £79,455.03 |
| 189 | £151.63 | £636.98 | £78,818.05 |
| 190 | £150.41 | £638.19 | £78,179.85 |
| 191 | £149.19 | £639.41 | £77,540.44 |
| 192 | £147.97 | £640.63 | £76,899.81 |
| 193 | £146.75 | £641.86 | £76,257.95 |
| 194 | £145.53 | £643.08 | £75,614.87 |
| 195 | £144.30 | £644.31 | £74,970.56 |
| 196 | £143.07 | £645.54 | £74,325.03 |
| 197 | £141.84 | £646.77 | £73,678.26 |
| 198 | £140.60 | £648.00 | £73,030.26 |
| 199 | £139.37 | £649.24 | £72,381.02 |
| 200 | £138.13 | £650.48 | £71,730.54 |
| 201 | £136.89 | £651.72 | £71,078.82 |
| 202 | £135.64 | £652.96 | £70,425.85 |
| 203 | £134.40 | £654.21 | £69,771.64 |
| 204 | £133.15 | £655.46 | £69,116.18 |
| 205 | £131.90 | £656.71 | £68,459.48 |
| 206 | £130.64 | £657.96 | £67,801.51 |
| 207 | £129.39 | £659.22 | £67,142.29 |
| 208 | £128.13 | £660.48 | £66,481.82 |
| 209 | £126.87 | £661.74 | £65,820.08 |
| 210 | £125.61 | £663.00 | £65,157.08 |
| 211 | £124.34 | £664.26 | £64,492.82 |
| 212 | £123.07 | £665.53 | £63,827.29 |
| 213 | £121.80 | £666.80 | £63,160.48 |
| 214 | £120.53 | £668.07 | £62,492.41 |
| 215 | £119.26 | £669.35 | £61,823.06 |
| 216 | £117.98 | £670.63 | £61,152.43 |
| 217 | £116.70 | £671.91 | £60,480.53 |
| 218 | £115.42 | £673.19 | £59,807.34 |
| 219 | £114.13 | £674.47 | £59,132.86 |
| 220 | £112.85 | £675.76 | £58,457.10 |
| 221 | £111.56 | £677.05 | £57,780.05 |
| 222 | £110.26 | £678.34 | £57,101.71 |
| 223 | £108.97 | £679.64 | £56,422.07 |
| 224 | £107.67 | £680.93 | £55,741.14 |
| 225 | £106.37 | £682.23 | £55,058.91 |
| 226 | £105.07 | £683.54 | £54,375.37 |
| 227 | £103.77 | £684.84 | £53,690.53 |
| 228 | £102.46 | £686.15 | £53,004.38 |
| 229 | £101.15 | £687.46 | £52,316.93 |
| 230 | £99.84 | £688.77 | £51,628.16 |
| 231 | £98.52 | £690.08 | £50,938.08 |
| 232 | £97.21 | £691.40 | £50,246.68 |
| 233 | £95.89 | £692.72 | £49,553.96 |
| 234 | £94.57 | £694.04 | £48,859.92 |
| 235 | £93.24 | £695.36 | £48,164.56 |
| 236 | £91.91 | £696.69 | £47,467.86 |
| 237 | £90.58 | £698.02 | £46,769.84 |
| 238 | £89.25 | £699.35 | £46,070.49 |
| 239 | £87.92 | £700.69 | £45,369.80 |
| 240 | £86.58 | £702.03 | £44,667.78 |
| 241 | £85.24 | £703.36 | £43,964.41 |
| 242 | £83.90 | £704.71 | £43,259.70 |
| 243 | £82.55 | £706.05 | £42,553.65 |
| 244 | £81.21 | £707.40 | £41,846.25 |
| 245 | £79.86 | £708.75 | £41,137.50 |
| 246 | £78.50 | £710.10 | £40,427.40 |
| 247 | £77.15 | £711.46 | £39,715.94 |
| 248 | £75.79 | £712.81 | £39,003.13 |
| 249 | £74.43 | £714.17 | £38,288.95 |
| 250 | £73.07 | £715.54 | £37,573.42 |
| 251 | £71.70 | £716.90 | £36,856.51 |
| 252 | £70.33 | £718.27 | £36,138.24 |
| 253 | £68.96 | £719.64 | £35,418.60 |
| 254 | £67.59 | £721.02 | £34,697.58 |
| 255 | £66.21 | £722.39 | £33,975.19 |
| 256 | £64.84 | £723.77 | £33,251.42 |
| 257 | £63.45 | £725.15 | £32,526.27 |
| 258 | £62.07 | £726.53 | £31,799.74 |
| 259 | £60.68 | £727.92 | £31,071.82 |
| 260 | £59.30 | £729.31 | £30,342.50 |
| 261 | £57.90 | £730.70 | £29,611.80 |
| 262 | £56.51 | £732.10 | £28,879.71 |
| 263 | £55.11 | £733.49 | £28,146.21 |
| 264 | £53.71 | £734.89 | £27,411.32 |
| 265 | £52.31 | £736.30 | £26,675.02 |
| 266 | £50.90 | £737.70 | £25,937.32 |
| 267 | £49.50 | £739.11 | £25,198.21 |
| 268 | £48.09 | £740.52 | £24,457.69 |
| 269 | £46.67 | £741.93 | £23,715.76 |
| 270 | £45.26 | £743.35 | £22,972.41 |
| 271 | £43.84 | £744.77 | £22,227.65 |
| 272 | £42.42 | £746.19 | £21,481.46 |
| 273 | £40.99 | £747.61 | £20,733.84 |
| 274 | £39.57 | £749.04 | £19,984.81 |
| 275 | £38.14 | £750.47 | £19,234.34 |
| 276 | £36.71 | £751.90 | £18,482.44 |
| 277 | £35.27 | £753.34 | £17,729.10 |
| 278 | £33.83 | £754.77 | £16,974.33 |
| 279 | £32.39 | £756.21 | £16,218.12 |
| 280 | £30.95 | £757.66 | £15,460.46 |
| 281 | £29.50 | £759.10 | £14,701.36 |
| 282 | £28.06 | £760.55 | £13,940.81 |
| 283 | £26.60 | £762.00 | £13,178.80 |
| 284 | £25.15 | £763.46 | £12,415.35 |
| 285 | £23.69 | £764.91 | £11,650.43 |
| 286 | £22.23 | £766.37 | £10,884.06 |
| 287 | £20.77 | £767.84 | £10,116.23 |
| 288 | £19.31 | £769.30 | £9,346.93 |
| 289 | £17.84 | £770.77 | £8,576.16 |
| 290 | £16.37 | £772.24 | £7,803.92 |
| 291 | £14.89 | £773.71 | £7,030.20 |
| 292 | £13.42 | £775.19 | £6,255.01 |
| 293 | £11.94 | £776.67 | £5,478.34 |
| 294 | £10.45 | £778.15 | £4,700.19 |
| 295 | £8.97 | £779.64 | £3,920.56 |
| 296 | £7.48 | £781.12 | £3,139.43 |
| 297 | £5.99 | £782.61 | £2,356.82 |
| 298 | £4.50 | £784.11 | £1,572.71 |
| 299 | £3.00 | £785.60 | £787.10 |
| 300 | £1.50 | £787.10 | £-0.00 |
An Introduction to the UK Mortgage Market
How Big is the UK Mortgage Market?
Historically across the United Kingdom around 65 thousand to 70 thousand mortgages are approved each month. This is from a low of around 30 thousand after the 2008 to 2009 global financial crisis. Prior to the recession the monthly rate was closer to 80 thousand to 130 thousand loans completed per month.

The UK Mortgage Market is Over £1.5 Trillion
In the third quarter of 2020 there were £62.5 billion in new loan originations. At the end of the third quarter of 2020 there were £1,420.8 billion in unsecuritised home loans outstanding with £106.546 billion in securitised home loans. Overall residential loans to individuals summed to £1.527 trillion across 13,443,836 loans.
Overall mortgage debt tends to grow around 3% to 6% per annum, though there can be significant fluctuations in that rate of growth due to factors like BREXIT, the global economc crisis which happened in 2008, COVID-19 lockdowns, etc. Segments of the market can change faster than the overall market due to those same sorts of factors along with various legal changes tied to foreign property ownership, the localised balance between immigration & construction, etc.
Market Composition
91.2% of all mortgages used fixed rates in the third quarter of 2020, with the average fixed rate loan priced at 1.91%. The average variable rate loan was priced at 1.85%, bringing the overall market average to 1.91%.
68.34% of gross advances were made for home purchases, while around 1/4 of the market was for remortgage. Future advances & the other category round out the market at around 3% each. Breaking down the home purchase figures further, 22.87% were loans to first time buyers, 12.53% were for buy to let & 32.94% was classified as other.
Looking at new commitments, 70.19% were for home purchases, 24.98% were for remortgage & the other category (including further advances) comprised of 4.82% of new commitments.
Over the past couple years 76% to 78% of advances were for capital and interest repayment loans, 17% to 20% were interest-only, and 4% to 6% were structured as combined or other. Regulated loans tend to lean much more heavily toward the capital and interest repayment structure, while non-regulated loans are far more likely to be structured as interest-only deals.
As the COVID-19 crisis swept across the globe economies slowed down and central banks intervened in the market to further add liquidity and reduce interest rates. When interest rates fall the composition of the United States market tends to shift heavily toward refinancing as fixed-rate loans in the U.S. are locked for the duration of the loan term. UK marketshare between purchase and remortgage is much more stable as fixed-rate loans adjust with market conditions after the initial fixed-rate period. Over the past 3 years remortgaging has made up between 27.49% to 37.83% of the UK market with the peak coming in Q2 of 2020 after interest rates cratered in response to the COVID-19 crisis.
Fixed & Variable Rates
What is a "Fixed" Rate?
The phrase "fixed rates" has a different meaning in different markets. In most markets around the world almost all mortgages are variable rate loans which are only fixed for a limited period of time at the beginning of the loan term.

The major exception to this rule of thumb is the United States market, where the United States Federal government heavily subsidizes the markets through GSEs Fannie Mae and Freddie Mac. U.S. buyers have the ability to lock in a fixed rate for up to 30 years. The United States government backs Fannie Mae & Freddie Mac purchases of mortgage securities. In the US over 90% of borrowers opt for fixed-rate loans.
The UK has government subsidy programs in Help to Buy and Help to Buy London. These programs offer down-payment assistance, though few lenders offer loans in the UK which have fixed rates extending beyond 5 years.

Which Loan Structures do Most Buyers Choose?
Most lenders across the UK will guarantee fixed rates for 2 to 5 years while structuring the remainder of the loan term to float using a variable rate which tracks a base rate from the Bank of England. The early fixed-rate portion of the loan often comes at a deal rate which has a lower spread. If market rates move higher when rates reset it can cause a large move in monthly payments.

For example, if one owed £180,000 and their rate went from 2.29% to 3.29% an interest only payment would jump from £343.50 to £493.50 while a full monthly payment would jump from £788.61 to £880.98.
In the UK about 92% of borrowers opt for fixed rates.
58% of borrowers opt for a 2-year deal period, while 32% opt for a 5-year deal period.
Only 1 in 50 mortgages come with a fixed rate longer than 5 years.
Many loans with a longer fixed period come with significantly higher rates & onerous early repayment charges.
Unsure how your payments may change as rates move change? We provide a UK mortgage amortisation calculator which allows you to see how changing rates can impact your monthly payments. It allows you to compare interest-only and fixed-rate loans side-by-side and generate a printable amortisation schedule of your loan payments.
Some banks limit how much of the loan can be prepaid during the introductory loan period, while allowing higher mortgage overpayments when the rate has shifted to a standard variable rate (SVR).
Many borrowers across the UK refinance their loans when rates reset, which is a big part of why remortgages were recently nearly 40% of new commitments. Many loans contain upfront fees to help cover administrative costs & the costs of offering lower rates. Some loan terms prohibit advance repayments, particularly in the introductory fixed-rate period.
Downpayments & Credit Scores
Most borrowers who received funding had a substantial down-payment and did not have an impaired credit history. In the third quarter of 2020 only 0.43% of borrowers had loans approved with impaired credit history.

What is Loan to Value Ratio?
LTV stands for loan-to-value. It is a ratio of the size of the loan against the value of the dwelling.
If you had a £50,000 down payment saved up for a £200,000 home this would mean your loan amount would be £150,000. £150,000 divided by £200,000 is 75% LTV.
In the third quarter of 2020 a tiny 0.31% of gross advances went to loans with an LTV over 95%, 3.21% went to loans with an LTV between 90% & 95%. 36.08% of advances went to loans between 75% & 90%, while 60.40% of gross advances went to loans with an LTV below 75%.
Lenders prefer to lend to borrowers with relatively low LTV values. If a borrower obtained funding at a 100% LTV then any weakness in the local property market could immediately expose the lender to potential losses. For this reason, borrowers in the highest LTV quartile may pay about a 1% higher APR than those in the lower half of the market.
Mortgage Affordability
Baseline Limit
As a baseline, typically most lenders do not lend more than 4.5 times the borrower's annual income. If you make £50,000 then they might be willing to lend between £150,000 and £225,000. For joint applicants the limit is typically slightly lower with them either offering a full multiple on the first income and then adding in the second income, or lowering the multiplier across all incomes down to 3. Examples are shown in the table below.
| Income 1 | Income 2 | Multiple | Amount |
| --- | --- | --- | --- |
| £50,000 | £0 | 4.5x | £225,000 |
| £30,000 | £20,000 | 3x both | £150,000 |
| £30,000 | £20,000 | 3x first plus second | £110,000 |
In rare cases lenders may loan up to 5X the borrower's annual salary, however regulatory restrictions limit banks to having no more than 15% of their mortgage loans above the 4.5X multiple. In these cases lenders can be selective and only choose borrowers with low debt loads and substantial down payments.
Lenders also take into account the debt load and monthly outgoings of the borrower, presuming borrowers spend about 3% to 5% of their debt amount on monthly debt service payments in their calculations.
Use our mortgage affordability qualification calculator to see how much you can qualify for given your current income.
General Affordability Assessment Considerations
Each lender has their own criteria they consider when determining how much they are willing to loan a particular borrower. Your credit score and history, the stability of your income, and your monthly debt service obligations and living costs play a major role in how much lenders are willing to loan. Some lenders may look at the monthly debt service payments, while others look at total debt load and reduce the amount they would be willing to offer based on how much total debt you have outstanding.
If the lender believes you will have a baby soon or take a career break that might also limit how much they are willing to lend.
How Much Can I Borrow? Detailed Considerations
Loan-to-value: Lenders specify different limits for how much they are willing to loan for each type of loan product on offer. Typically LTV is the percent of the home's value not covered by your downpayment. So if you deposit 25% on a home that would mean the LTV is 75%.
Pretax Income: basic income, pension, finacial support from ex-spouses & any other earnings like overtime, sales commissions or workplace bonuses. Some lenders may count overtime income in full while others may count it at a reduced rate of 50%. Self-employed people need to show additional documentation including their bank statements, business accounts, as well as their recent income tax payments.
Outgoing Expenses: debt service fees on credit cards and other loans, insurance policies, council tax, vehicle expenses, utilities, and other basic living costs like recreation and childcare. Beyond the headline numbers, some lenders may lower your total limit for each additional child in the family. If your numbers sound off they may ask to see recent bank statements to authenticate them.
Anticipated Personal Living Changes: risk of job loss, illness, and major life changes like having a child or taking a career break to obtain further education.
Anticipated Market Condition Changes: lenders want to ensure you will still be able to make payments if interest rates rise in-line with typical historical shifts.
The Impact of COVID-19 On the Property Market
The UK Government published a guide on home moving during the coronavirus outbreak.
On October sixth, Prime Minister Boris Johnson announced a new 5% mortgage deposit program for first-time owners.
The Bank of England cut their interest rate to 0.1% on March 19, 2020. In spite of the BoE easing policy, many banks have tightened lending standards.
During lockdowns far fewer homes were sold across the UK, leading to record sales from pent up demand after the initial lockdown ended.
Property website Rightmove, which says it is used by 90% of British estate agents, reported the highest number of home sales agreed since it began tracking the data more than 10 years ago, with transactions more than 20% higher than the previous record.
The above jump in demand was before the UK government announced a stamp duty holiday in July 2020. After the stamp duty holiday was announced the property market grew hotter with home prices rising 3.7% in August. Property prices have risen more in areas outside of greater London as many people who formerly worked in the city now have the ability to work from home are seeking more space with a lower living cost. The Fair Oaks, Hampshire and Formby, Merseyside markets have been particularly hot.
The stamp duty holiday was originally scheduled to last until 31 March 2021, though Rishi Sunak is expected to extend the stamp duty holiday for three months through the end of June.
You can calculate stamp duty across the UK using the UK Government's free online tool.
Stamp Duty Holiday
During the stamp duty holiday period the threshold for property sales in England and Northern Ireland has been increased to £500,000 for primary residences. Buyers considering properties above this threshold will only pay a stamp duty on the amount above £500,000.
Roughly 9 in 10 buyers this year are expected to pay no stamp duty at all and the average stamp duty bill is anticipated to decline by £4,500.
English & Northern Ireland Stamp Duty Rates
The following table shows freehold home stamp duties an individual or couple would pay buying their primary residence.
| Location | Property Value | Old Rate | New Rate |
| --- | --- | --- | --- |
| England | £100,000 | £0 | £0 |
| England | £200,000 | £1,500 | £0 |
| England | £300,000 | £5,000 | £0 |
| England | £400,000 | £10,000 | £0 |
| England | £500,000 | £15,000 | £0 |
| England | £600,000 | £20,000 | £5,000 |
| England | £700,000 | £25,000 | £10,000 |
| England | £800,000 | £30,000 | £15,000 |
| England | £900,000 | £35,000 | £20,000 |
| England | £1,000,000 | £43,750 | £28,750 |
| England | £1,100,000 | £53,750 | £38,750 |
| England | £1,200,000 | £63,750 | £48,750 |
| England | £1,300,000 | £73,750 | £58,750 |
| England | £1,400,000 | £83,750 | £68,750 |
The percentage rate breakdown is:
£500,000 = 0%
£500,001-£925,000 = 5% of the amount above £500,000
£925,001-£1,500,000 = 10% of the amount above £925,000 + £21,250 (the 5% of £425,000)
£1,500,001 and up = 12% of amount above £1,500,000 along with £21,250 (the 5% of £425,000) and £57,500
Second home buyers and landlords can also avail themselves to the discounted rates, though they will also be required to pay an extra 3% stamp duty.
Before the COVID-19 related holiday stamp duty was paid on any land or property sold for above £125,000, with first-time buyers getting an exemption on up to £300,000.
Scotland Land and Buildings Transaction Tax Rates
£145,001-£250,000 = 2%
£250,001-£325,000 = 5%
£325,001-£750,000 = 10%
£750,001 and up = 12%
Scottish landords pay an additional 4%.
Wales Land Transaction Tax
£180,001-£250,000 = 3.5%
£250,001-£400,000 = 5%
£400,001-£750,000 = 7.5%
£750,001-£1,500,000 = 10%
£1,500,000 and up = 12%
Welsh landords pay an additional 3%.
Buyers across the UK have rushed to take advantage of the stamp duty holiday, with mortgage approvals rising in recent months ahead of the holiday deadline:
February, 2020: 73,300 mortgage approvals
[COVID-19 Crisis with lockdowns]
August, 2020: 85,500 mortgage approvals
September, 2020: 92,100 mortgage approvals
October, 2020: 97,500 mortgage approvals
That manic surge has been attributed to a number of components, including eager buyers looking to upgrade their homes to better suit their new lifestyles, which now frequently involve more time at home and remote working.
The High Cost of Quick Decisions
Between 2015 and 2016 nearly one in three UK consumers opted for mortgage products which cost them more than £550 more per year than cheaper alternatives which they qualified for & were readily available. This fee difference amounts to 12.7% of what consumers spend annually on their mortgage.
The remortgage market is more competitive amongst lenders than the first time buyer (FTB) market, so only around 12% of borrowers in that category opted for strongly dominated product choices. About 18% of first time buyers fall into the strongly dominated product choice category & well over 20% of mover mortgages fall in this category. Movers who are in a rush often make emotionally-driven or time-sensitive choices which compromise their ability to get the best deal the way a person remortgaging can.
About 14% of borrowers in the top credit score quartile obtained strongly dominated products, while over 20% of consumers in the bottom quartile did. In general people who are young, have low incomes, have low credit scores, have a limited down payment and/or have other factors that make their transaction more complex like moving are more likely to get a worse deal on their loan.
Due to the large price difference between loan products, around 70% of borrowers seek independent intermediaries to help them compare loans instead of going directly to a lender. When comparing loans it is best to look at the total loan cost in Annual Percentage Rate (APR) instead of the interest rate in isolation, as the former gives you a multidimensional view which incorporates the full cost of financing inclusive of arrangement, valuation & survey fees along with any other expenses.
How Much Can You Afford to Borrow?
Lenders generally prefer borrowers to have a singificant down payment. Lenders typically want at least a 5% down payment. This means if a house was valued at £180,000 a lender would want £9,000 down & would be willing to lend £171,000. Some lenders may offer first time buyers a 100% mortgage with a £0 deposit, but obtaining that sort of loan will usually force one to pay at least a percent higher interest rate on their loan.
If you know the rough interest rate you will be charged on a loan then you can easily use the above calculator to figure out how much home you can afford. The above calculator at 2.29% APR on a £180,000 home loan would require a £788.61 full repayment or £343.50 as an interest-only payment. If your max monthly budget for a home payment were £1,000 a month you would then divide this amount by the above payments to get the equivalent loan principal. Example table shown below.
Default Calculation
| Loan Type | Loan Amount | Interest Rate | Monthly Payment |
| --- | --- | --- | --- |
| Interest Only | £180,000 | 2.29% APR | £343.50 |
| Fully Amortising | £180,000 | 2.29% APR | £788.61 |
New Calculation
| Loan Type | Interest Only | Full Repayment |
| --- | --- | --- |
| Monthly Payment | £1,000 | £1,000 |
| Old Monthly Payment | £343.50 | £788.61 |
| Payment Conversion | £1,000 / £343.50 = 2.9112 | £1,000 / £788.61 = 1.2681 |
| Old Loan Amount | £180,000 | £180,000 |
| New Loan Amount | £180,000 * 2.9112 = £524,016 | £180,000 * 1.2681 = £228,258 |
| Home Value at 95% LTV | £524,016 / 0.95 = £551,596 | £228,258 / 0.95 = £240,272 |
| 5% Down Payment | £551,596 - £524,016 = £27,580 | £240,272 - £228,258 = £12,014 |
The above calculations consider the principal and interest portion of the mortgage payment, but do not cover other aspects of ownership. If your property taxes cost per £1,200 year that would be £100 per month. You would need to subtract that & any other expenses like insurance or common dwelling fees before calculating the remaining principal and interest portion of your monthly payment.
If you had £200 in other monthly ownership related fees then this might take a renter equivalent of £1,000 down to £800.
Also, if you had a different interest rate on offer then you would need to use that interest rate in your calculations versus what our calculator shows as a default.

Want to Pay Your Loan Off Quicker?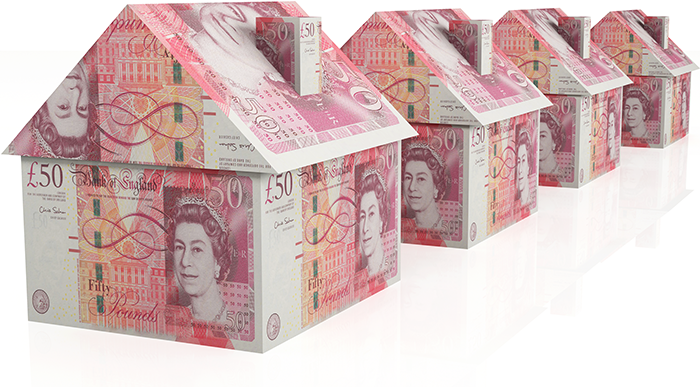 With strong property prices it is not uncommon for people to take out loans extending beyond 25 years. However, with the rise of technology and automation who knows what the world will look like in a quarter century? Paying extra on your home means your balance is lower today AND your balance is lower tomorrow. The earlier you make extra payments the more interest expense you will save because early extra payments reduce your balance for the duration of the loan.
If you wanted to set a goal to pay off a loan in 15 years but originally took out a 25-year mortgage then adjust the above calculator to 15 years. A £180,000 loan structured over 25 years will see the borrower pay £56,581.78 in interest over the life of the loan. If the same loan was paid off in 15-years the monthly payment would jump from £788.61 to £1,182.51 but the total interest expense would fall to £32,851.43 — a savings of £23,730.35.
How Do You Compare Loan Offers?
Start With Core Assumptions
In any loan scenario you have to make underlying assumptions like
if you are likely to remortgage the loan again
when you are likely to remortgage
where you think interest rates are headed
if you think you will sell the home soon
will your wages be high enough to cover payments if rates head higher and your mortgage resets well above the initial offer rate
Look Beyond the Monthly Payment
You also can not look only at monthly payment amounts, because a loan which is paying off and building equity gives you life flexibility, whereas an interest only loan does not help you build a cushion which helps protect you against shifting market conditions. If one loan amortises and the other does not then you have to look at how much equity you build in the home as a key factor in determing value. Most people do not want to pay on mortgages for their entire lifetime or until they hit a tough patch and risk foreclosure.
Example Loan Comparison from a Reader
The key to being able to accurately compare mortgage offers is to only adjust a single variable at a time so you can more easily see the differences between offers instead of trying to compare apples to oranges to camels. :)
So if you know you want a 2-year introductory term on a 12-year amortization schedule you can compare all loans on offer that fit those criteria. So then you are really only comparing the difference in interest rate & total interest paid against the upfront fee for buying access to a lower rate.
Example below, based on a question from one of our users named Dan.
Useful information on your website.  Your calcs suggest that more capital is paid than interest in the first year and going forward.  However I have seen sites which suggest the opposite is true and I have to say my recollection was this this was the way it tended to work.

What I am trying to work out is when I reduce my term from 20 years to 12 years whether I am better to go with 1.12% or 1.54% 2 year fixed. 

As the former has a fee involved I am trying to see how much capital I will have reduced over the 2 years to see if while the 1.54 is offer I will have reduced less of the loan when I look for another 2deal in 2 years (i.e. some of the monthly payment will have been paying interest rather than repaying capital borrowed.
Answer: The ratio of interest vs principal repayment depends on both the interest rate AND the length of the loan.
A longer loan term means a relatively larger share of early payments go toward interest instead of paying on principal (hence why the loan term lasts longer).
A higher rate has the same sort of function of increasing the share of the early payment that is applied toward interest.
When interest rates are relatively high (e.g. 5% or 6%) then initial payments on a 25 year loan term go mostly toward interest. If rates are low like they are currently the opposite is true.
Set the interest rate really high (say like 10%) while changing nothing else and you will see how dramatically it can change the capital allocation and payments.
Example loan scenarios below:
12-Year Fixed £200,000 @ 1.54%, Remortgaging 2 Years In
| Year | Interest | Capital | Balance |
| --- | --- | --- | --- |
| 1 | £2,972.36 | £15,292.37 | £184,707.63 |
| 2 | £2,735.19 | £15,529.54 | £169,178.08 |
| Total | £5,707.55 | £30,821.91 | £169,178.08 |
12-Year Fixed £200,000 @ 1.12%, Remortgaging 2 Years In
| Year | Interest | Capital | Balance |
| --- | --- | --- | --- |
| 1 | £2,159.78 | £15,659.74 | £184,340.26 |
| 2 | £1,983.48 | £15,836.03 | £168,504.24 |
| Total | £4,133.26 | £31,495.77 | £168,504.24 |
Presuming the loan terms are similar & you will remortgage in a couple years the ending balances should be quite similar. In the above examples the loan with a higher interest rate had a £673.84 higher balance. This is one of the two numbers you will need to look at.
What you really have to compare is the interest amount paid if you know you will remortgage again in 2 years.
The difference in interest paid is £1,574.29 (£5,707.55 - £4,133.26). Add that amount to the balance difference and you get £2,248.13.
If this amount is more than the upfront fee then you save money by paying the upfront fee for buying the lower rate.
To run the numbers again, let's say that upfront fee is £1,200 and you roll it into the loan.
12-Year Fixed £201,200 @ 1.12%, Remortgaging 2 Years In
| Year | Interest | Capital | Balance |
| --- | --- | --- | --- |
| 1 | £2,172.73 | £15,753.69 | £185,446.31 |
| 2 | £1,995.38 | £15,931.04 | £169,515.26 |
| Total | £4,168.11 | £31,684.73 | £169,515.26 |
Financing the fee costs more than paying it upfront, but it can still be a viable option if there is a significant interest rate difference relative to the upfront cost. Even if you financed the loan fee, in the above scenario you still come out ahead when compared against the higher rate.
By rolling the fees into the loan you pay an extra £34.85 in interest over the first 2 years and your balance at the end of the first 2 years is £11.02 higher than if you kept your current loan.
Your remaining loan balance being £11.02 higher is certainly worth the £1,539.44 saved on monthly interest payments over the course of those 2 years.
Only Compare a Single Variable at a Time
The trick with comparing loan offers is to decide what you want to keep the same (e.g. loan term) and then only compare loans with one difference at a time so it is easy to make an A vs B comparison.
If you compare loans with different terms and rates and fees and caps and so on side by side then it can be almost impossible to make the best choice because there are too many variables.
A lot of people just pick whatever the lower initial monthly payment is without considering how payments may change, what the fees are, etc.
In the above A vs B comparison example the fee for buying the lower rate was not rolled into the loan. If you are going to roll that fee into the loan, then you would do that same sort of comparison again but run the second calculation using that fee as part of the loan amount.
Projecting the Past Into the Future
We tend to presume the future will be a continuation of the recent past, though 2020 has shown this to not be true!
One last note of caution is since the early 1980s the world has seen falling interest rates as globalisation and technology have been massive deflationary forces driving down the cost of labor, logistics, and goods. Longterm interest rate cycles in developed economies often last for around 70 to 100 years and we are likely approaching a turning point sometime in the next couple years, so when you go to remortgage again rates may be moving higher already.
Central banks having interest rates pegged at the lower bound & some even employing negative interest rates. As fiscal intervention picks up rates are likely to head higher eventually. In fact, early on in the COVID-19 crisis the Federal Bank of New York's Kenneth D. Garbade authored a report on yield curve control measures that were used during and after World War 2.
Paying for a longer fixed period can seem like a waste of money so long as interest rates keep falling. But when they start moving in the other direction, rising rates can have a dramatic impact on your monthly budget.
I hope this helps you Dan!
Arrears & Foreclosures
You are obligated to regularly pay your mortgage & if you fall behind the lender may seize the home.

1.25% of total loans were in arrears at the end of the third quarter of 2020.

In the third quarter lenders took new position of 377 units, while selling off 1,186 units, leaving an ending stock of 2,280 units.
Equity Release Mortgages
Rising longevity coupled with rising living costs has forced many elderly people to use their home equity to help pay for living expenses, or the expenses of their own parents or children. Stamp duty fees and the hassle of moving make equity release relatively appealing when compared to the cost of downsizing.
People 55+ typically use one of two types of loans to leverage their built up equity.
Lifetime Mortgages: The homeowner can receive a lump sum or draw down equity over time. When the dwelling is sold the homeowner can then repay the accrued interest owed along with the original amount borrowed.
Home Reversion Plans: All or part of the home's equity is sold upfront at a discount with the customer receiving either a monthly payment or a lump sum. When the house is sold prodeeds of the sale are split according to the the share of ownership by each party.
Of the two options, the lifetime mortgage option is far more popular with consumers.
Thank You!
Please come again. You may want to bookmark our site for future reference. :)
If you can help spread the word on social media that would mean a lot to us.

Free Mortgage Calculator Widgets for Your Website
Many of our website visitors have asked us if they can syndicate our calculator on other websites. The answer is yes. :)

Click here to see our full line of mortgage calculator embed options.
Reference Resources
Check Out All of Our Free Online Calculators
Widgets | Affordability | Amortisation | Overpayment | Remortgage | About
Do you have feedback or questions? Email us
© 2019 — 2021 MortgageCalculator.UK — All Rights Reserved